Making effective use of the Adways Group's various assets, expertise, and networks, we collaborate with numerous startup businesses, both in Japan and abroad, to become an "OMG, This is Amazing" company that the Group would not be able to realize on its own.
Business Model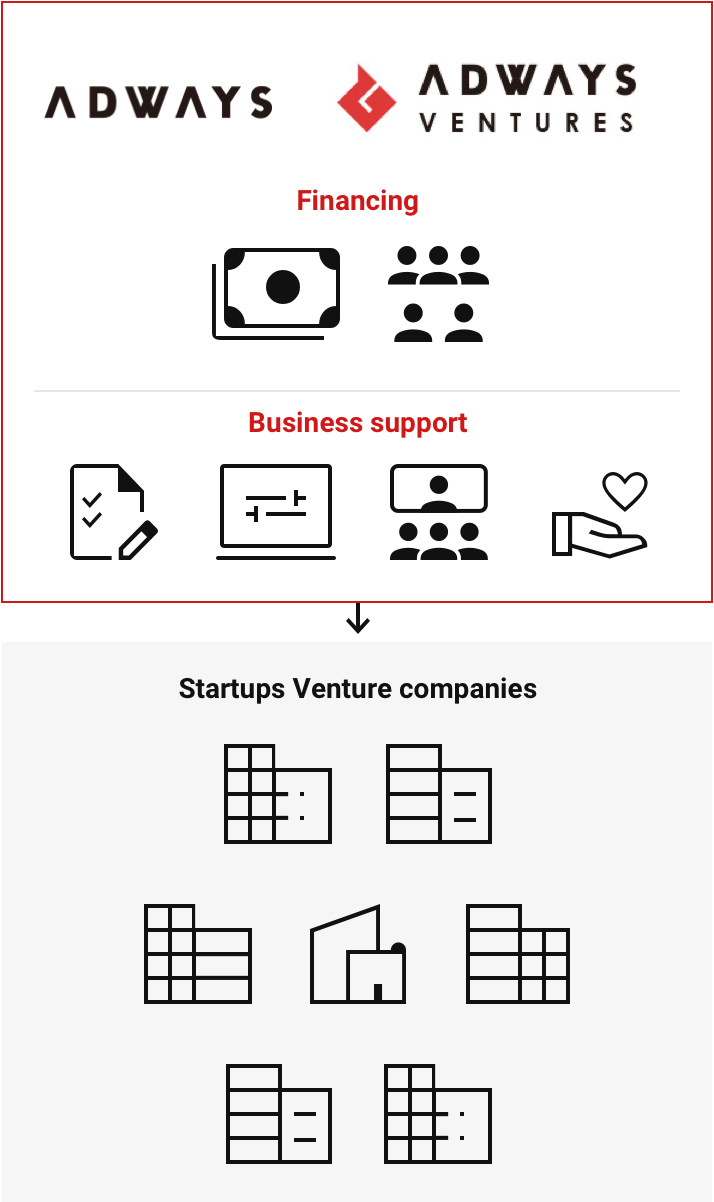 Support Details
Along with investing in companies with whom we can work together to create values and pursue Adways' slogan, "OMG, This is Amazing", we contribute to the growth of these companies by providing various support that leverage the unique strengths of our business in alignment with their needs.
Advertising operations
We provide sophisticated advertising management services by leveraging the expertise and in-house platforms of Adways' agency business. We can also produce any creatives needed for running advertisements.
Marketing strategy planning support
More than just an advertising operation services, our dedicated teams also support overall marketing strategy planning.
Service development and UI / UX design support
Engineers and designers from Adways provide support for engineering, UI / UX design, and more, based on the needs of the companies in which we have invested.
Business strategy planning support
Adways supports business strategy planning by drawing on the expertise it has acquired from the businesses it operates and its startup financing experience.
Administration / management support
We support the administration and management of companies in which we invest by drawing on the management expertise we have acquired from operating of various businesses belonging to the Adways Group.
Business partnership support
We are able to support partnerships with businesses operated by Adways as well as companies that we have invested to date and other companies we deal with.
Support for next round of financing
We offer practical support related to capitalization strategy following investment by Adways and the next round of financing.
Exit Performance